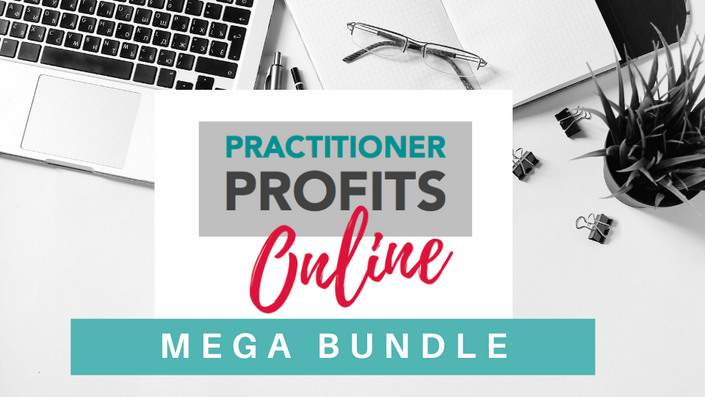 PPO Mega Bundle
20+ Facebook Marketing Templates For Holistic Therapists To Get More Bookings & Make More Income
Enroll
The Facebook™ Marketing For Holistic Therapists To Help More People, Get Booked Out & Make 2 TO 3 TIMES MORE Income
A bundle of 20+ most popular and guaranteed profitable Marketing Post Templates, Videos and Bonus Trainings.

When implemented are designed to skyrocket your social media presence, get you helping more people and have this investment
pay for itself.


Recommended Retail Price - $1499.
Is your valuable time being eaten up with all the effort it takes deciding the right thing to post?
You find that Hashtagging and sharing content just like other therapists suggest, makes very little difference too.

People just don't seem interested in reaching out to find out more.
And you've downloaded e-books, followed the advice of so-called marketing gurus, and emulated posts from therapists that seem to know what they are doing.

You may have even paid for a marketing course or two...

But new clients are NOT flooding in every week *Grrrr*

Wonder why you aren't making more from your holistic therapy work using social media?
As a self employed therapist, there's nothing makes you more anxious than an appointment diary with lots of blank space. I know, I've been there.

Are you doing some marketing but getting fed up because people aren't engaging with your posts, let alone requesting an appointment?



You
hear it's easy when you know how, but if you are lacking in self-belief
and confidence online, you can hold back from advertising your business
and the transformation you facilitate in people
Well what if I told you it doesn't have to be like this?
Have you heard the expression, you don't know what you don't know?
Well, what you don't know is literally costing you a fortune!
How would you feel if you didn't have to struggle any more with your Marketing For Your Holistic Therapy Business?
Wouldn't it be cool if you could just spend a couple of hours creating and implementing an online marketing strategy that would be so effective, you wouldn't have to worry about posting anything else for the rest of the month?
YEP, IT'S TRUE! And all you have to do is check in and engage with your audience and reply to their comments, answer their questions and help them to secure their bookings.
Just imagine how much time you would save?
Time you can spend with your clients, or your family, or on yourself.
And I'm sure you'll be relieved to know that being successful online has VERY LITTLE to do with the number of followers you have or the number of times you post every day. Phew!
Course Content
WATCH THESE FIRST... 👀
Available in days
days after you purchase
FACEBOOK BASICS
Available in days
days after you purchase
NEW BONUS!! - INSTAGRAM
Available in days
days after you purchase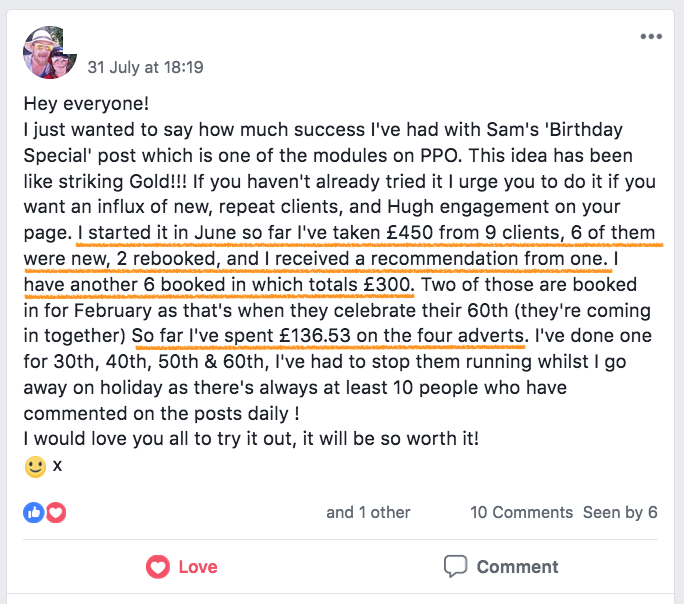 We even cover mindset and positive intentions which is crucial if you want to grow your business: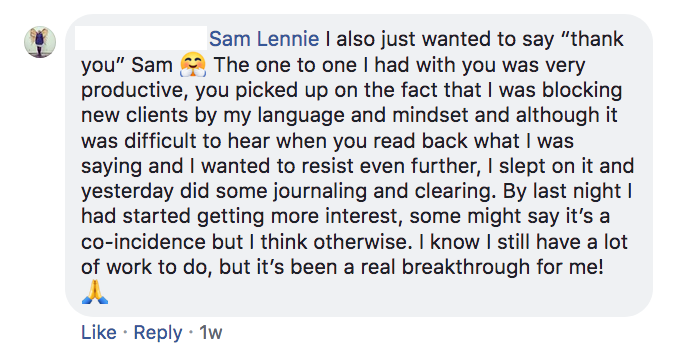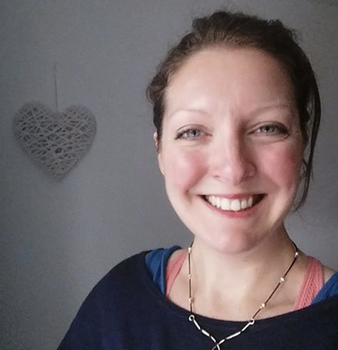 "I wish I had known about Sam when I first started my solo holistic therapy business. I had used another business marketing program before but it wasn't aimed specifically at natural therapists.
Then I discovered Sam - she has been like gold dust! I have gained so much confidence and knowledge in growing my business in the past 6 months than I have in the 2 years of business. Being connected with other therapists in the group has made a huge difference to me as a solo therapist and has been an added support throughout the course as well. Sam is motivating, encouraging, warm and a genuinely lovely soul. I can't wait for the next course ! ?? "

- Michelle, Reflexologist & Reiki Master (Michelle Cambridge Holistics) & Business Coaching and Mentoring Client

I can help you because I've been in your shoes!

Hey Solopreneur with healing hands, Sam here...
You're all set up with a website and have created a Facebook Business Page and linked your social media accounts up nicely. You are publishing some of your own content and sharing plenty of other peoples posts in your industry, but you still don't feel 100% happy with the reach, the engagement and the flow of new clients, for all the effort.
Why do your competitors seem to have so much more influence and success with a highly engaged audience interested in their therapies, and a busy clinic with an abundance of clients?
You don't have a plan about the direction you are going in and wonder if there really is a way of attracting new clients with the online tools available to you, and stand out from the crowd in your own unique way.
Can you really crack the code?
The answer is absolutely yes! When you know what your audience wants from you and aligning with the algorithms.
HINT: Clients do not come to you because of your product, they are not interested in your 'thing'. They want to know that you can solve their problem!
You see, you have to be consistent with your message on Facebook (or any social media platform) and post regularly to build engagement and trust. But, that can be really frustrating when you try lots of different posts and get no comments and feedback.
It can leave you wondering what you have done wrong and struggling on what you can do to put it right.
It's understandable to want to give up when there is so much guess work and especially when there's not enough time in the day.
Wouldn't it be much easier if an experienced someone who understands the fundamentals, did your social media marketing for you? But you just don't have the funds it would take to make that happen.
I can tell you now that you won't have to spend 1,000's of dollars of your well earned money, or hours and hours each month working on Facebook posts that simply don't work. FANCY PHOTO APPS OR FILTERS WILL NOT BE NEEDED!
You don't need to have a clue about where to start either.
It's all in the system, ready to plug and play.
Believe me when I say I've experimented with lots of different types of designs, images, posts, messages and angles in my own Therapy Business...
Posts for Maternity clients,
Special milestone birthdays,
Christmas is coming,
Back to School Mums and Teachers,
Stressed out Business Owners,
Coupons, Limited Time Vouchers,
Bundles, Packages... you name it....
What made the difference?

I stopped wasting my time on 'new fangled' marketing tactics that everyone and their mother is doing and went back to WELL-TRODDEN MARKETING BASICS (because at the end of the day, the old principles continue to work the best!)
My sheer determination and considerable investment in top class mentoring over the last 4 years means I've gained a lot of knowledge around what makes Facebook and social media such a good marketing tool to attract prospects, engage and convert them to lovely customers and then keep them coming back... When you get it right!
Learning the marketing techniques that 99.99% of the population promoting their business online, DON'T DO!.
Thankfully, now you are 100% in the right place.

I really want to teach you to master the Facebook and online marketing tools that I use, to generate tens and thousands of dollars (or pounds!) for your business and your life.
I want you to understand the principles behind great marketing, so you don't waste time on the latest 'tactics' that will be redundant in 6 months, when the next shiny big thing comes around !
You'll stop worrying about how many followers you have, and you'll no longer focus on what every other therapist in your area or online is doing. When you are in a leading position, there's no more FOMO!
And when you start implementing what I'll share with you, you could even have a wait list for your most popular periods! (yep, that happened to me).
How cool would that be?

So my question is, are you ready to come join me?
Let's get you more social media responses and bring you more clients.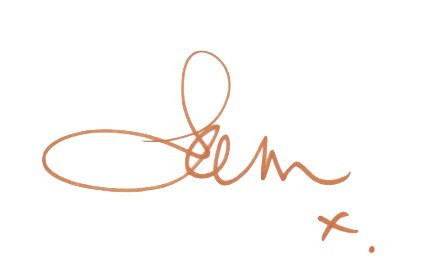 Here's the thing...

You don't need another social media marketing course, you need to know how to talk to your audience and your clients in a language they understand and demonstrate that you know and understand their problems, better than they do.
Every module you get a new 'done-for-you' themed, Social Media marketing post.
A breakdown of the marketing principles behind the post, to understand how and why it works so well.
Hours and hours of guided video tutorials, walking you through how to set up your marketing so you can get the post published in no time.
'Winning formula' posts that you can replicate and adapt to your business and your treatment offerings with ease.
Downloadable scripts to follow up with interested people.
Templates to re-engage with lapsed clients, that will encourage them back into your clinic.
A Marketing results tracking template, to measure your marketing successes (It's essential to know when you discover social media marketing that works sooo well, you do more of that).
How to build a list and create a sign up form to put on your social media channels and your website (which you'll definitely need should Facebook shut down tomorrow)
Creating simple lead magnets and campaign automations so you can talk to and connect with your clients and prospects outside of clinic.
Advanced trainings on how to write your copy for your website and your social media channels that speak to your target audience in a way that resonates with them, building value, trust and rapport, so they rely on you and stay with you.

The trainings cover 3 main aspects:
How to master online marketing
How to effectively engage prospects and gain clients
How to retain clients and strengthen rapport.
---
Who is Practitioner Profits Online for?
For any Holistic Therapy businesses that want to share and sell their product or service, help more people, and get more desirable clients.
Therapists that want to fill empty spaces in their diary each week.
Newly trained natural therapists that want to accelerate quickly.
Established therapists that want to develop a larger clinic setting and take on more therapists.
For those of you that love being a therapist but don't have much time for marketing because of commitments at home, but still want to create a steady and consistent income for nice holidays and new clothes and a regular visit to the hair salon.
This system is for you;
If you have an abundant and 'can-do' perspective, are happy to try new social media posts provided and even spend a little money on advertising them to your audience, when you want an even greater return.
You are prepared to trust the process, be persistent, have an open mind and not give up on your goals.
Therapists determined to be successful and are not afraid of doing the necessary work.
And you actually want to invest time working on your business rather than in your business so you can make more money and do more of the things you desire in life.
---
Who should NOT Join?!
Anyone that is not patient and gives up easily.
If you do not intend to implement any of the templates and scripts, this training is not for you.
Sally Sceptics, Moaning Minnies or Debbie Downers. I work with energy and the law of attraction and I prefer to work with similar, likeminded people, who take ownership and know and understand that their actions and beliefs create their own reality.
If you think that you will immediately be successful from the minute you start, and want to get quick results, please do not Join.
If you are not interested in adding value to your audience, not giving your knowledge and your skills to your potential clients or your actual clients, and would rather put all your energy into what you can get from them. DO NOT JOIN!
---

So, How does it work?
When you sign up, you'll receive an email with your log in details.
You'll get instant access to 12 months worth of content AND Bonus Modules too. Hours and hours of video tutorials, cut and past templates and text, images and spreadsheets.
As well as on your desktop, you can also view your content 'on the go' via the Teachable app.

So feeling ready to take action and to start implementing right away?
Implement everything you are given and the content will more than pay for itself, at least 3x over (that's what previous clients have achieved with these trainings).
Your Instructor
Course Content
WATCH THESE FIRST... 👀
Available in days
days after you purchase
FACEBOOK BASICS
Available in days
days after you purchase
NEW BONUS!! - INSTAGRAM
Available in days
days after you purchase
Frequently Asked Questions
How long do I have access to PPO Mega Bundle?
How does lifetime access sound? After purchasing this bundle, you have unlimited access to everything via the portal, using your user name and password.
What do I need to use the trainings in Practitioner Profits Online?
You need to have a basic understanding of social media, Facebook Page and a Website running at the very least (although there is bonus content showing you how to set up Social Media platforms). The basic content and settings of these can be changed at any time so don't think that you have to have a complete profile that you are happy with... all can be updated as you go.
Still on the fence about making the investment?
The content is tried and tested in a Holistic Therapy business just like yours. Everything you receive within the trainings has been successful in that it has brought into my business, tens of thousands of pounds/dollars in revenue. It has helped me structure my marketing really easily, saving me time and giving me flexibility in my home and working life. Let's put this into context... for the cost of one of the treatments you provide, you are getting all the templates, text content, advice and support that you could ever need. For as long as you want. And if you decide you no longer want to participate and grow, you can just cancel and go it alone. No obligation at all.
I have a business that's going okay already, why should I need the system?
Because I'm guessing that a business going just 'okay' isn't the awe-inspiring goal you originally set out to achieve. Online marketing is fast paced, changes to algorithms happen all the time and I'm guessing you want to keep up. Even if you have a valued client base it's inevitable that you get a natural churn and drop off because that's just business. Alternatively, if you'd simply like to polish up what you post, get some new and fresh ideas to add to your strategy, or intend to copy what has worked already, the training is for you.
The PPO Bundle is priced in US Dollars, is that corrrect?
Yes it is. With customers across the globe, USD is a currency that everyone understands. Your credit card/bank account will be charged and converted in your own currency at the exchange rate at that moment. Please check your statement for the details.
As Seen In...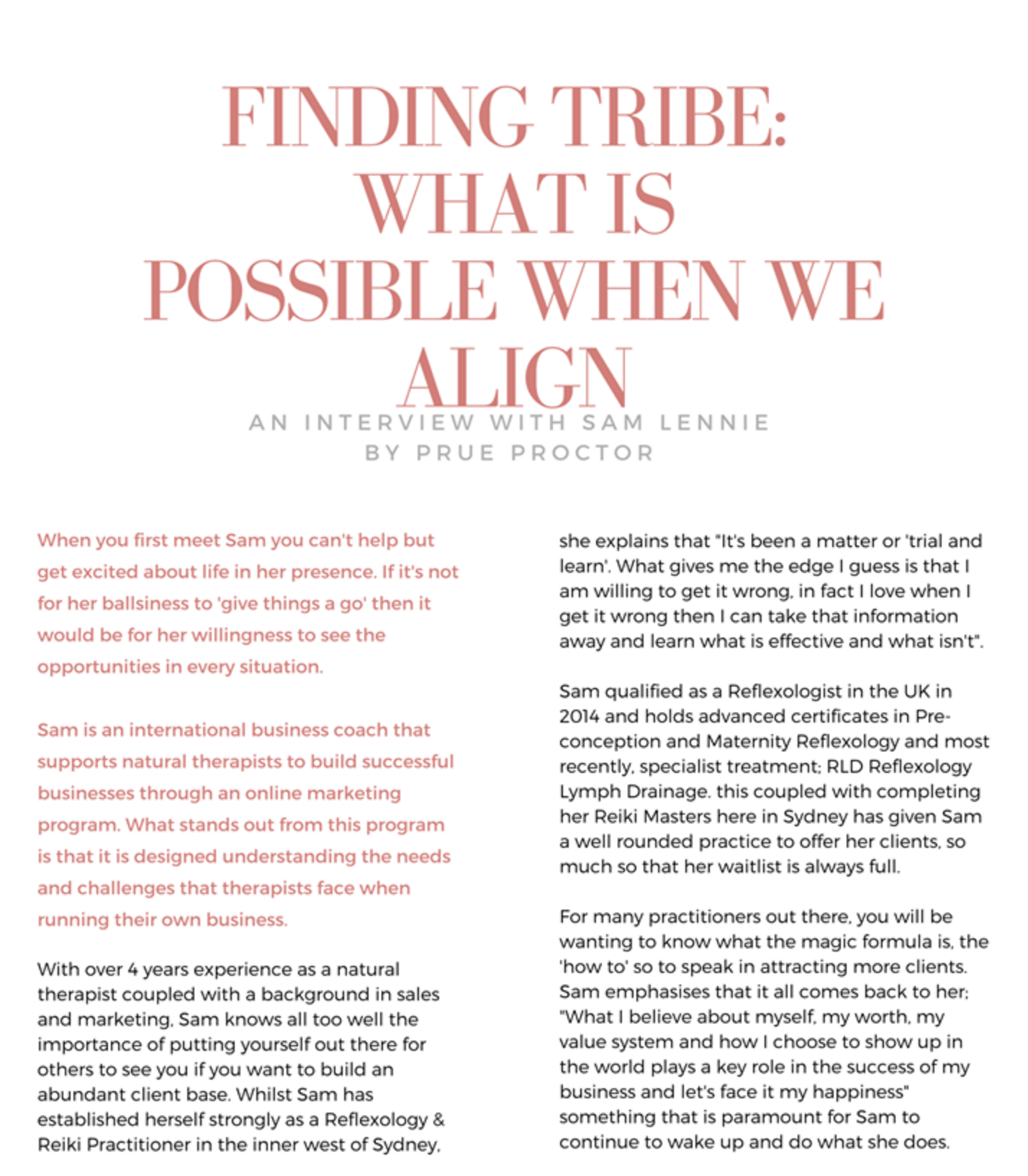 Article In Zen Magazine and Podcast Interview

---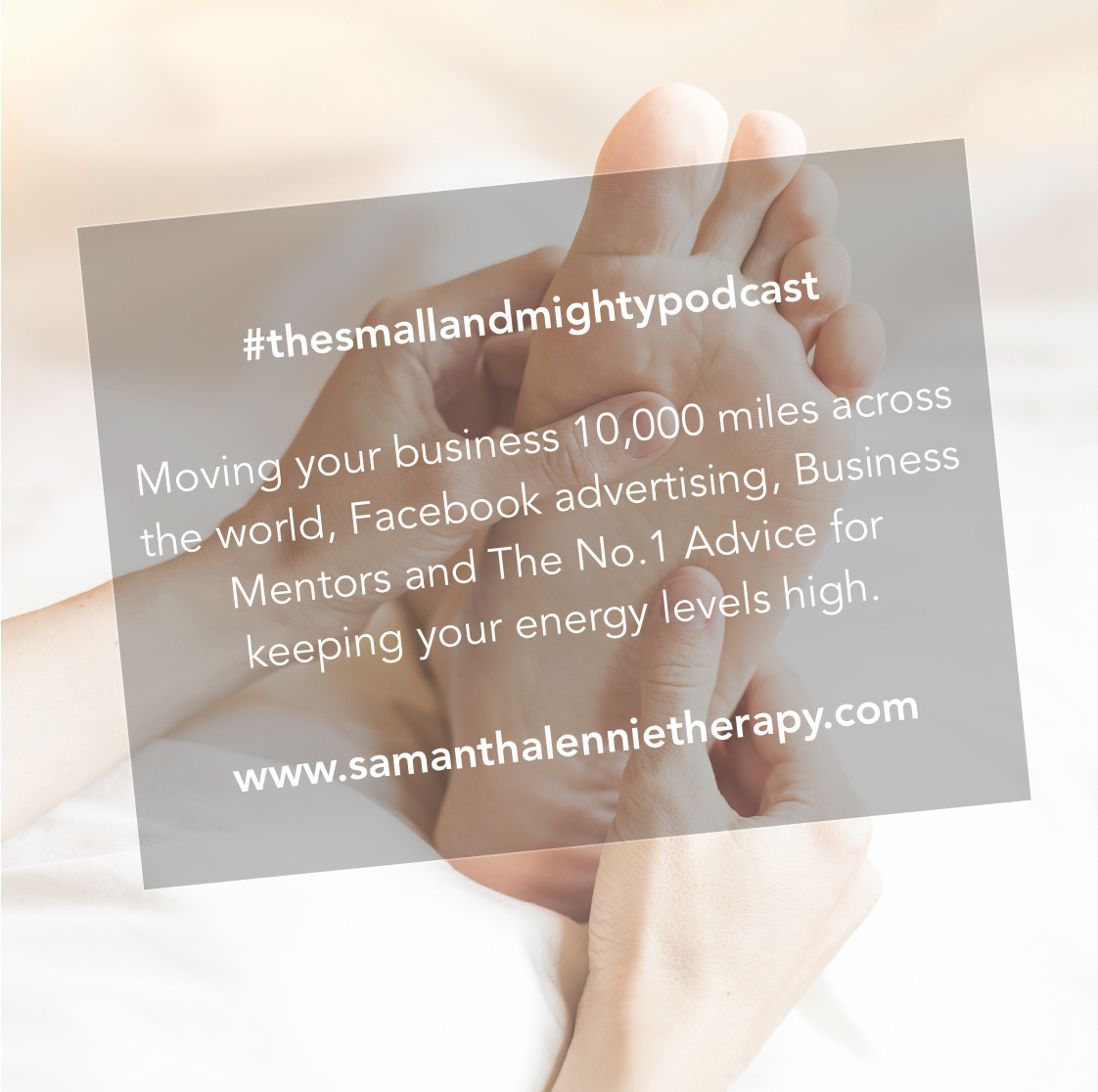 Listen to interview on the Small & Mighty Podcast